A new Hindu Temple and Cultural Centre of Windsor (Ontario, Canada) is reportedly expected to open its doors in November next. Construction of this Windsor's first Hindu temple with an attached cultural center will cover about 13,000 square feet on a four acres plot in East Windsor and will begin next month, reports suggest.
Meanwhile, distinguished Hindu statesman Rajan Zed, in a statement in Nevada today, applauded efforts of temple management and area community for realizing this wonderful Hindu temple complex.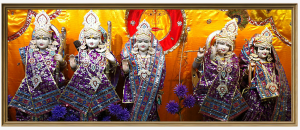 Rajan Zed, who is President of Universal Society of Hinduism, further said that it was important to pass on Hindu spirituality, concepts and traditions to coming generations amidst so many distractions in the consumerist society and hoped that this temple would help in this direction.
Zed stressed that instead of running after materialism; we should focus on inner search and realization of Self and work towards achieving moksh (liberation), which was the goal of Hinduism.
Windsor, settled in 1749 and known as "The City of Roses", is the southernmost city in Canada, separated by the Detroit River from USA. Drew Dilkens is the Mayor.
A website has been created – http://www.hindutemplewindsor.ca/temple-profile.html. The following are their fund raising efforts:
Dear devotees and well-wishers of Hindu Mandir And Cultural Center. In an ongoing effort to have our own temple and a Cultural Center, we have reached a critical point. We have the challenge of raising additional $1,000,000 (One Million) by June 2014 to get the project started. The new facility will provide a safe, spacious and serene environment for your spiritual needs. The Cultural Center will be a multipurpose facility and will provide a place for social interaction for all age groups. We thank you all who already made donations and pray that they continue to support. For those waiting to donate when the digging starts, this is the moment. Please make your pledge. We will collect when the construction starts. All donations over $1,000 will be acknowledged with a memorial plaque or brick for generations to appreciate your efforts.
Suggested donations are:
$5,000 for a plaque within the temple
$2,000 for a memorial brick on the entrance wall
$1,000 for a memorial brick on the side
Every community has done it. We can do it to. Let us take on the challenge to raise $ 1,000,000 by June 2014
We will give you a weekly update on our progress.
As of March 1, 2014: Cash in Hand + Pledges = $1.6M