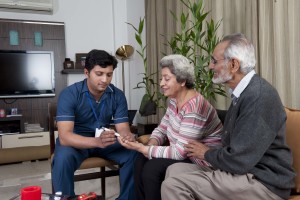 Many South Asian families are finding it harder to cope with their ageing parents as loneliness,
health
and mobility
issues
come to the fore. Living with seniors may not be new to us but the Canadian lifestyle throws a few curveballs that many have previously not considered.
With both spouses working (the children at school) and neighbours away or keeping to themselves, seniors are left typically left alone to fend for themselves for most of the day.
Cold weather, unfamiliar surroundings and the inability to travel (transit facilities in the suburbs are few and far between) keeps them indoors.
Homes with multiple levels are also difficult to navigate, especially if they have mobility problems. Navigating stairs is a common issue. As a result many may even be confirmed to their rooms for most of the time with no one to look in on them.
With mental health issues like dementia and Alzheimer's also on the rise personal safety is often a big concern.
Take for instance a couple who works and is forced to leave their 80-year-old mother (diagnosed with Alzheimer's) alone during the day. With simple tasks being a challenge they have a list of instructions for most things including using the microwave.
Or the family where the grandmother blacked out and was lying in the garage for who knows how long. The elderly lady had no recollection of how she fell or how long she was lying there. More than one such episode caused them to take her for a checkup where they discovered she had early stages of dementia. What adds to the complications is the fact she has diabetes and hypertension. Given her deteriorating memory remembering to take her medication can be quite a challenge. Operating the stove is also an issue for the fear that she might forget to turn it off.
As many working families depend on their elders to care for their young children, leaving kids with seniors who have mentalhealth issues has more than one person's safety at risk. A couple of years back I came across a situation where the grandmother (who had dementia) refused to acknowledge that her grandson was on vacation and repeatedly questioned him about how he came home from school so early. This frustrated both the 7-year-old boy who tried to explain it was a holiday, and the grandmother who was stressed about him coming home by himself. Either her family hadn't noticed her deteriorating mental health or chose to make do. A year or two later, she was move to a senior home.
Diagnosing mental health issues
Coping with a senior with mental health issues however, seems less frightening than not knowing or acknowledging that that your loved one has a problem. Often dementia goes undiagnosed at the early stages as many put it down to forgetfulness. Trouble with memory can be an early sign of dementia. The changes are often subtle and tend to involve short-term memory. Your elderly relative may be able to remember years past, but not what they had for breakfast.
Other signs include:
• Difficulty in communicating
• Confusion
• Mood changes
• Apathy
• Difficulty performing normal tasks
• Being repetitive
• Trouble recognizing people or places
Normal aging vs. dementia
According to the Alzheimer Society of Canada, "almost 40 per cent of people over the age of 65 experience some form of memory loss". When there is no underlying medical condition causing this memory loss, it is known as "age-associated memory impairment," which is considered a part of the normal aging process. Brain diseases like Alzheimer's disease and other dementias however are different.
• Not recognizing or knowing the names of family members
• Forgetting things or events more frequently
• Frequent pauses and substitutions when finding words
• Not being able to recall details of recent events or conversations
• Withdrawing from friends and family
are definite causes for concern.
Caring for seniors with dementia
Providing care for someone with any form of dementia can be challenging. One of the most frustrating things for the affected senior is to be constantly corrected. It both frightens and upsets them which can manifest itself as aggression or complete withdrawal. Also, in the early stages of dementia, a person may remain independent and need very little care. However, as the disease progresses, care needs will intensify, eventually leading to a need for round-the-clock assistance. In such cases the senior may need constant monitoring and supervision in the home.
Many resources are available to help caregivers know what to expect and how to adapt during the early, middle and late stage of the disease.
Early diagnosis may also help to slow the deterioration and improve quality of life.
Where to go for help?
Caring for someone with dementia can be frustrating, confusing, and emotionally and physically exhausting, especially if you are the only one. You may wish to get help (or respite) at some time. Every community has agencies and services that can help. Consult:
• Your family doctor, health clinic or social worker
• Your local Alzheimer Society
• The public health department in your area
• Community organizations
• Your friends, family, neighbours, especially if they have been caregivers
Caring for a sick and aging loved one changes family dynamics. Relationships and finances maybe stressed, and this adds to the tension. Don't hesitate to ask for help from your family or the community! No one said you have to do it all. More importantly get your loved one the helps and care they need.
Disclaimer: News/articles published are collected from various sources and responsibility of news lies solely on the source itself. United Hindu Congress Canada or its website is not in anyway connected nor it is responsible for the news/article contents presented here.